In the lowland forests, the last
1,063 grauer's gorillas

live in danger of extinction
DON'T JUST SIT BACK AND DO NOTHING
BUY YOUR LIMITED EDITION WITH
1.063 UNIQUE PACKAGINGS
which proceeds will go directly to support polepolefoundation.org, an organisation focused on the preservation of this species in the Democratic Republic of Congo.
What can you find in this
Limited Edition Save the Gorillas?
Together with collectible figurine creator Moro, we have developed a unique release of 1,063 unique, hand-finished, collectible Gorillas made from sustainable material, which come with 2 seeds of the potent and cup-winning producer: Gorilla Glue #4.
How to order your custom Gorilla?
As this is a unique figure, you have to:
Upload a full body photo of yourself and fill in your Gorilla's name.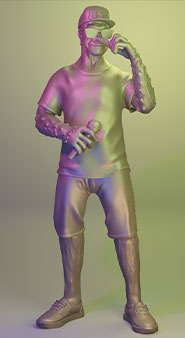 Custom modeling of your figure